25 Reviews
Address:

Alnwick, Northumberland, UK NE66 1NQ, Scotland

Hours:

Daily Mar 27-Nov 1: 10am-5:30pm

Admission:

Adult £14.75, Senior & Student £11.40, Children 5-16 £7.60, Children Under 4 Free
Alnwick Castle Tours
For the last 700 years, Alnwick Castle has been home to the aristocratic Percy family, who hold the ancient title of the Dukes of Northumberland. It is one of the largest inhabited castles in the UK and is now perhaps best known as the setting for Hogwarts Academy in the Harry Potter movies.
Starting life at the end of the 11th century as a Norman motte and bailey defence castle, Alnwick has expanded piecemeal and been consistently restored down the centuries; a visit today encompasses architectural styles from medieval through Gothic and on to Italianate neo-classicism. Alnwick has one of the finest private collections of decorative arts in the country as well as several museums or weaponry, war and archaeology – plus one dedicated to the successful TV series Downtown Abbey – housed in the castle's towers, courtyards, keep and ornate state apartments, which were decorated by Robert Adam in the late 18th century and are crammed with paintings from the likes of Titian and Caneletto.
The parklands surrounding the castle include a walled garden, the spectacular Grand Cascade, rope bridges and one of the world's largest tree houses. There are dinosaurs to be spotted in the Alnwick Garden, a colorful spring display in the Rose Garden and – best of all – a garden dedicated entirely to poisonous plants, where belladonna and laburnum thrive. Family-friendly events take place in the grounds daily, giving kids the chance to dress up as medieval knights or undergo broomstick training in the style of Harry Potter. 
Practical Info
Alnwick, Northumberland NE66 1NQ. Open Mar 27–Nov 1 daily 10am–5.30pm. Admission Castle: adult £14.75; senior & student £11.40; child 5–16 £7.60; under 4 free. Garden: adult £12.10; senior & student £10.45; child 5–16 £4.40; under 4 free. Castle & Garden: £25.10; senior & student £21.45; child 5–16 £10.40; under 4 free; family £62.70. All tickets are cheaper if bought ahead of time online. Alnwick is two hours from Edinburgh on the A1.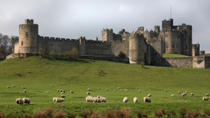 63 Reviews
Explore the stunning scenery of the Scottish Borders on this full-day tour of Kelso, Alnwick Castle and Berwick. Head to the pretty border town of Kelso and ... Read more
Location: Edinburgh, United Kingdom
Duration: 9 hours 30 minutes (approx.)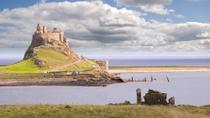 57 Reviews
Explore the scenic coastal route between Edinburgh and the ancient kingdom of Northumbria. Visit Alnwick Castle, see Holy Island, taste some Mead brewed by ... Read more
Location: Edinburgh, United Kingdom
Duration: 9 hours 30 minutes (approx.)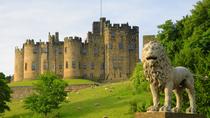 34 Reviews
This popular small group day tour (maximum 16 passengers) explores Holy Island, scene of the first Viking invasion of Britain, and Alnwick Castle (filming ... Read more
Location: Edinburgh, United Kingdom
Duration: 9 hours (approx.)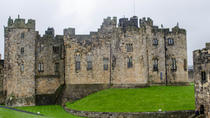 5 Reviews
A tour that takes you from Edinburgh over the border to England and back. You'll have ample time to explore one of the UK's best castles, Alnwick Castle, made ... Read more
Location: Edinburgh, United Kingdom
Duration: 1 day (approx.)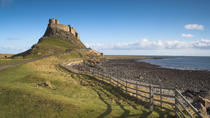 11 Reviews
The journey begins by heading south from Edinburgh and across the border into the north east of England. This is the ideal tour for Harry potter fans.
Location: Edinburgh, United Kingdom
Duration: 8 hours 30 minutes (approx.)