Lookout Mountain Tours
There was once a time when the native Ute tribe used this hill as a lookout—gazing east towards Denver's plains and westward into the hills. Today, this 7,300-foot mountaintop park is covered in single-track and trail, and is one the best places for hiking and biking in the Denver metro area. When making the winding, nearly 2,000-foot climb from Golden up towards the summit, it's common to pass bikers all straining their calves in a grueling ride towards the top. Aside from the trails and panoramic view, Lookout Mountain is the site of the Buffalo Bill Museum and Grave, where "Buffalo Bill," the famous performer, was buried on the mountain's summit. For hikers and downhill mountain bikers, the Chimney Gulch/Lookout Mountain Trail offers the feel of Front Range backcountry hiking only a few minutes outside of town. Elk and deer are often spotted rustling through the waving grass, and when you factor in the trails and mountaintop views, Lookout Mountain is one of Denver's best single-day trips.
Practical Info
Lookout Mountain is approximately 20 minutes west of Denver outside the town of Golden. Admission is free, and the park is open from 8am-dusk. There is a $5 admission for the Buffalo Bill Museum and Grave, which is open from 9am-5pm in summer, and 9am-4pm in winter.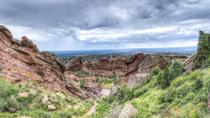 188 Reviews
Experience Colorado's glorious mountain scenery and wildlife on a morning tour from Denver. Admire the stunning ancient sandstone formations in Red Rocks Park. ... Read more
Location: Denver, Colorado
Duration: 4 or 9 hours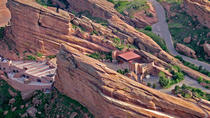 28 Reviews
Looking for a quick escape from Denver? Join us on this 4-hour tour through the Foothills of the Rocky Mountains. Explore the famous natural amphitheater of ... Read more
Location: Denver, Colorado
Duration: 4 hours (approx.)
On this fantastic half day tour to the foothills outside of Denver, you will enjoy exploring the majesty of Red Rocks Park and Amphitheater and the geological ... Read more
Location: Denver, Colorado
Duration: 4 to 5 hrs