Urubamba Valley Tours
Better known as the Sacred Valley, the Urubamba Valley is the ancient cradle of Inca civilization. It's a place where merchants still speak Quechua while strolling the cobbled streets, and markets burst with the vibrant colors of traditional Inca art. It's a place where ruins rise from the hillsides beneath the snow-capped peaks of the Andes, and mysterious archaeological sites offer far more questions than answers. When visiting the mountains of southern Peru, rather than simply racing from Cuzco to the ruins at Machu Picchu, take some time to base yourself in the valley's colorful towns. Wander the markets of Ollantaytambo or the nearby town of Pisac, and watch as crafters and Incan artisans perpetuate their heritage through art. Visit the sprawling Salineras salt mines to see hillsides of blindingly white terraces, or hike to the bottom of the Incan Moray—an agricultural ruin of concentric circles dug 100 feet into the Earth.
Practical Info
The Sacred Valley stretches for 62 miles from Pisac to Ollantaytambo. It's possible to visit the entire valley on a one-day tour from Cuzco, but since the trip takes an entire day, travelers wanting more market or hiking time should allow multiple days to visit. From Cuzco, the towns of Pisac, Urubamba, and Ollantaytambo are accessible by public bus, and Ollantaytambo is accessible by trains en route to Aguas Calientes.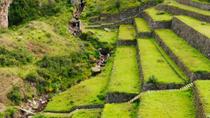 3 Reviews
Stay overnight and explore the Sacred Valley of the Incas in depth on this two-day excursion from Cusco. Take a walking tour through the town of Pisac to ... Read more
Location: Cusco, Peru
Duration: 2 days (approx.)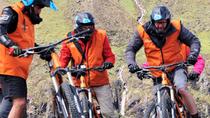 8 Reviews
The Inca Jungle Trek, is an amazing 4-day alternative tour where you can practice adventure sports like rafting, trekking, biking, and zip lining. It also ... Read more
Location: Cusco, Peru
Duration: 4 days (approx.)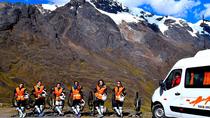 2 Reviews
Descend into the rainforest to the Inca jungle tour for 4 days and dive into the epic adventure of biking, rafting, trekking, and zip line. During our ... Read more
Location: Cusco, Peru
Duration: 4 days (approx.)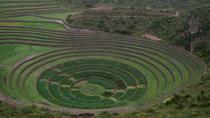 10 Reviews
Explore Peru's Urubamba Valley on this day trip from Cusco! Visit the Andean village of Chinchero, see the former salt-producing town of Maras, view the ... Read more
Location: Cusco, Peru
Duration: 7 hours (approx.)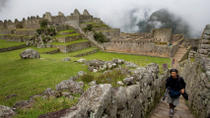 20 Reviews
Take on the Inca Trail, known as one of the most sacred pilgrimages around the world, on this 4-day trek through the Urubamba Valley towards the citadel of ... Read more
Location: Cusco, Peru
Duration: 4 days (approx.)