1 Review
Address:

Rua Marechal Hermes, 999, Curitiba, PR, Brazil

Hours:

Tuesday through Sunday, from 10 a.m. to 6 p.m.

Admission:

R$9, R$4.50 for students and teachers
Oscar Niemeyer Museum Tours
From Rio de Janeiro to Brasilia to here in Curitiba, Oscar Niemeyer's distinct, modern designs are a staple in Brazilian architecture. Honoring him as one of Brazil's most famed architects, his eponymous museum is one of the city's top attractions. The building itself is the centerpiece of the museum. Designed by Niemeyer, the sleek, modern and eccentric eye-shaped structure sits perched upon a bright yellow platform, overlooking a reflecting pool, while large pedestrian walkways sweep around the building and the surrounding gardens. The building was completed in 2002 and is representative of Niemeyer's signature style.

The 375,000-square-foot (35,000-square-meter) space is considered the largest exhibition area in Latin America. While the works by Niemeyer himself are the main attraction, the museum also features permanent collections and special exhibitions from other artists, focusing on visual art, architecture, urban studies and more. Those interested in design and modern architecture should not miss this futuristic museum, considered one of the best of its kind. 
Practical Info
The Oscar Niemeyer Museum is located in the Civic Center of Curitiba at Rua Marechal Hermes, 999. It is open Tuesday through Sunday, from 10 a.m. to 6 p.m. The museum stays open until 8 p.m. on the first Thursday of every month, and entrance is free between 6 and 8 p.m. General admission costs R$9, while it is R$4.50 for students and teachers (with valid ID) and free for children under 12 and senior citizens over 60 (with valid ID).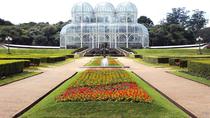 Curitiba, the capital of the Brazilian state of Paraná, is an inland city of tall buildings. Known as a cultural center, Curitiba is home to a number of ... Read more
Location: Curitiba, Brazil
Duration: 4 hours (approx.)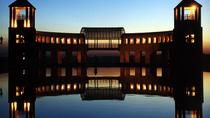 Enjoy a 4-hour tour of Curitiba highlights, followed by dinner in the gastronomic suburb of Santa Felicidade, where you'll taste traditional Italian dishes.
Location: Curitiba, Brazil
Duration: 4 hours (approx.)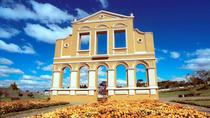 1 Review
Experience the best of Curitiba in this tour of approximately 4 hours and a half long!
Location: Curitiba, Brazil
Duration: 4 hours (approx.)