Cozumel Reefs National Marine Park Tours
Less than 1% of the Earth is covered in coral—yet these reefs are home to over 25% of the world's total marine species. Unfortunately, despite their abundance of biodiversity, coral reefs across the globe are in a serious state of decline. That said, in places like the Cozumel Reefs National Marine Park off the island's southern coast, the establishment of a protected coral reserve is helping the reef to thrive. 
In the warm waters off Cozumel's coast, 26 different species of coral house 300 species of fish. Some fish, like the Splendid Toadfish, are endemic to the reefs of Cozumel—which means that the fish are only found here in these colorful castles in the sand. Hawksbill and green sea turtles are frequently spotted in the marine park's 29,000 acres, which also encompasses mangrove forests and sandy sections of shoreline. Given the marine park's rich biodiversity and the warmth and clarity of the waters, the scuba diving and snorkeling sites have become world-renowned for their exceptional natural beauty. 
When Cozumel Reefs National Marine Park was formed in 1996, its funding was derived from nominal fees that are charged to snorkelers and divers. Thankfully, for what often amounts to less money than the cost of a drink on shore, the money provided from each snorkeler and diver has helped to conserve this pristine reef for generations to come. 
Practical Info
In order to maintain the level of preservation, visitors are asked when snorkeling in the marine park to obey some basic rules. There's no touching or collection of the corals or marine species, and fish feeding is outlawed since it disrupts the reef's natural balance. Visibility can range from 60-120 feet, and spring and late fall have the best conditions and clearest water visibility.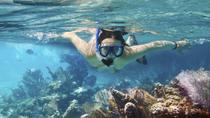 51 Reviews
Hop aboard a glass-bottom boat and snorkel at prime locations offshore from Cozumel on this half-day guided tour in Cozumel Reefs National Marine Park. At El ... Read more
Location: Cozumel, Mexico
Duration: 4 hours (approx.)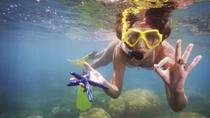 2 Reviews
Get the most out of a full day of snorkeling off Cozumel Island and relaxing on the beach with this tour departing from Cancun, Mexico. This maritime adventure ... Read more
Location: Cancun, Mexico
Duration: 8 hours (approx.)