In the center of Doi Inthanon National Park rises Thailand's highest peak. Doi Inthanon, named after Chiang Mai's last sovereign, King Inthawichayanon, summits at 8,415 feet (2,565 meters) above sea level, and while temperatures at the top run much cooler than in Chiang Mai, you'll never see snow on the peak.
While a vast majority of visitors come to the park to take in the views from the summit (accessible by car), the surrounding forests, waterfalls, stupas and nature trails make it one of Thailand's most spectacular national parks. Birdwatchers flock to the park in hopes of spotting some of its 362 species of birds, while other visitors come to picnic and swim at Mae Klang Falls.
Practical Info
You can easily visit Doi Inthanon on a day trip from Chiang Mai. The peak is best visited during the dry season when clouds and mist are less likely to mar the view.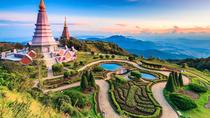 8 Reviews
The country's highest mountain – Doi Inthanon – is a magnificent place for those appreciating nature; from towering waterfalls, local villages to flowering ... Read more
Location: Chiang Mai, Thailand
Duration: 8 hours 30 minutes (approx.)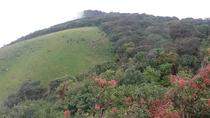 Having a good day in the embrace of nature -one of the most fertile natural treasure and scenic trail in Thailand, the invigorating mountain and fresh air are ... Read more
Location: Chiang Mai, Thailand
Duration: 8 hours (approx.)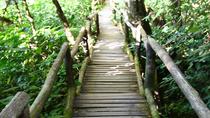 3 Reviews
Explore the beauty and culture of Doi Inthanon National Park on this 8-hour tour from Chiang Mai. Admire the views of Thailand's highest mountain, explore the ... Read more
Location: Chiang Mai, Thailand
Duration: 8 hours (approx.)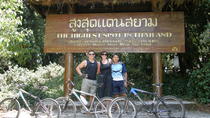 A fun and exhilarating challenge for those looking for a mountain bike adventure in one of Thailand's most beautiful national parks, Doi Inthanon. We visit ... Read more
Location: Chiang Mai, Thailand
Duration: 10 hours (approx.)
1 Review
Between 8am and 8:30am you will be picked up from your hotel and join your small group to the highest peak of Thailand in Doi Inthanon National Park.  Enjoy ... Read more
Location: Chiang Mai, Thailand
Duration: 8 hours (approx.)
Private Tours Explore the beauty and nature on this tour you can cool off on Thailand's highest peak with the beautiful scenic Doi Inthanon ... Read more
Location: Chiang Mai, Thailand
Duration: 8 hours (approx.)
Private tour duration 8-9 hours , The South of Chiang Mai Province , where you can see the beautiful waterfall ( Wachiratharn waterfall) , Getting your time ... Read more
Location: Chiang Mai, Thailand
Duration: 8 to 9 hrs
A day in the embrace of nature! Located 36 miles from Chiang Mai is one of the most fertile troves of natural treasure in Chiang Mai, Doi Intanon National ... Read more
Location: Chiang Mai, Thailand
Duration: 7 hours (approx.)
Discover Private Trip Chiang Rai & Doi Inthanon National Park 2 Day Explore Chiang Rai , with a professional guide. A full-day, private-tour from ... Read more
Location: Chiang Mai, Thailand
Duration: 2 days (approx.)
10 Reviews
Join us and explore Thailand's highest peak – Doi Inthanon National Park. The best time to visit is during December to February for cool climate and you will ... Read more
Location: Chiang Mai, Thailand
Duration: Flexible