St Barts Tours
When it comes to glitz and glamour in the Caribbean, it doesn't get any more impressive than St Barts (short for St Barthélemy) in the Caribbean. The eastern Caribbean island is just eight square miles large, but it packs a lot of beauty and activities into its borders. It is beloved by millionaires and celebrities, but even non-famous visitors can get a taste of the high life while vacationing in St Barts.
From beaches to chic shopping to some of the best food in the Caribbean, you can find a wide range of sights, sounds and tastes to experience in St. Barts. The beaches on the island have soft sand and are framed by tall palm trees and warm, teal water. Head to serene cove of Salines Beach for some excellent sunbathing and waves for bodysurfing. 
Shopping is also a prestigious pastime in St Barts. Boutiques carrying luxury brands can be found all over the island, but to really experience some high end shopping, head to Quai de la République in the city of Gustavia where you'll find shops like Louis Vuitton and Cartier. 
After you shop to your heart's – or wallet's – content, grab a meal at one of St Barts' gourmet restaurants. Try some of the local Creole cuisine. St Barts is also known for its French cuisine.
Practical Info
Flying is the fastest way to get to St Barts, but you'll first have to land on the nearby island of St Martin and then take a charter flight to St Barts. The island of St Barts is also popular with the yachting crowd and if arriving to St Barts via the sea sounds fun to you, rent a boat or hop on a ferry and sail to St Barts from St Martin.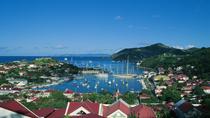 65 Reviews
Spend a day experiencing the beauty of the untouched white sandy beaches and stunning snorkeling areas that St Barts has to offer! Explore the island at your ... Read more
Location: Simpson Bay, St Maarten
Duration: 8 hours (approx.)