River Cam Tours
Flowing through the heart of Cambridge, the River Cam is not only the city's lifeline, but one of its most captivating natural landmarks. The most visited section of the river runs between Bishops Mill and Jesus Lock, lined by the grand buildings of Cambridge University and aptly nicknamed 'The Backs' as it's framed by the 'backs' of eight colleges. Following the river along this stretch affords impressive views of King's College, the Wren Library at Trinity College and landmarks like the Bridge of Sighs and the Mathematical Bridge.
For visitors to Cambridge, the quintessential local activity is punting along the River Cam – a chauffeured cruise in a flat-bottomed boat or 'punt', propelled along by a 5-meter-long pole. A romantic, slow-paced punting tour is ideal for sightseeing as you'll float downstream with plenty of time to snap photos and admire the riverside landmarks.
The River Cam is also a popular recreational ground, with university rowing teams using it to practice for the prestigious Oxford-Cambridge boat race (held along the River Thames in London each spring). Walkways run along parts of the river and many pubs and restaurants offer riverside views, while the grassy banks make an idyllic picnic spot during the summer months.
Practical Info
The River Cam runs for around 14 miles (23km) from Ashwell in Hertfordshire and through central Cambridge until it meets the River Ouse.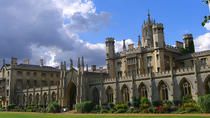 4 Reviews
Discover centuries of rich English history in Cambridge on this 1-day tour from London. Follow a guide on a 1-hour tour through Cambridge's medieval streets, ... Read more
Location: London, United Kingdom
Duration: 1 day (approx.)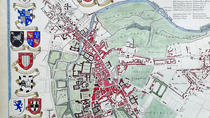 36 Reviews
Punting is one of the best ways to see the famous riverside colleges in comfort and style. Great care is taken to provide outstanding punting tours of ... Read more
Location: Cambridge, United Kingdom
Duration: 50 minutes (approx.)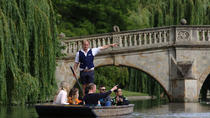 20 Reviews
Enjoy a 45 minute shared punting tour of Cambridge, this is a must do when visiting the city. See the sublime architecture and pristine gardens of one of the ... Read more
Location: Cambridge, United Kingdom
Duration: 45 minutes (approx.)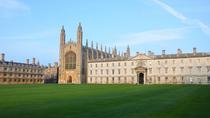 2 Reviews
This private 2-hour walking tour is tailored to what you want to see, ensuring you make the most of your time in Cambridge.
Location: Cambridge, United Kingdom
Duration: 2 hours (approx.)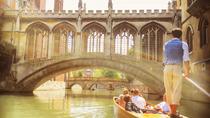 Shared Cambridge Punting Tour The highlight of any Cambridge experience is a Rutherford's share tour. This Visit England quality assured 50 minute river ... Read more
Location: Cambridge, United Kingdom
Duration: 50 minutes (approx.)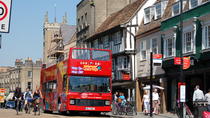 22 Reviews
You can hop-on and off as many times as you like aboard your Cambridge open-top double-decker City Sightseeing bus. There are 16 stops and the entire route ... Read more
Location: Cambridge, United Kingdom
Duration: 1 day (approx.)
Christmas trees, carols, dinners with family and friends, Christmas cards ...  Is there anything else we don't already know about Christmas? The answer to this ... Read more
Location: Cambridge, United Kingdom
Duration: 2 hours (approx.)
One of the essential places to visit in Cambridge is undoubtedly The Backs , a picturesque area, east of Queen's Road, where there are several colleges of ... Read more
Location: Cambridge, United Kingdom
Duration: 60 minutes (approx.)
Sit back, relax and enjoy the views from the comfort of your own punt. Your private chauffeured punt tour for up to 6 people with last for approximately 50 ... Read more
Location: Cambridge, United Kingdom
Duration: 50 minutes (approx.)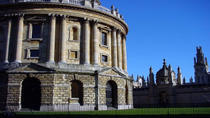 78 Reviews
Begin the day traveling across the Chiltern Hills to Oxford, the "City of Dreaming Spires", whose hushed courtyards and elegant, dignified timeworn ... Read more
Location: London, United Kingdom
Duration: 10 hours (approx.)