No reviews, be the first!
Address:

4 Jingshan Qianjie, Beijing, China

Hours:

Open: Apr 1 - Oct 31: 8:30am - 5pm; Jul 7 - Aug 26: 8am - 5pm; Nov 1 - Mar 31: 8:30am - 4:30pm. Closed Monday Afternoons except holidays.

Admission:

Adult: Apr 1 - Oct 31: CNY 60; Nov 1 - Mar 31: CNY 40. Student: CNY 20
Inner Court Tours
During the time when the Forbidden City served as the residence for the imperial family, the palace was divided into an inner and outer court. The outer court was where the emperor came to conduct official business, and the inner court served as the living quarters and private gardens for the royal family. In the days of the Ming Dynasty, only royal family members, the emperor's concubines and eunuchs were allowed within the walls of the inner court.

Visitors enter the inner court by passing through the Gate of Heavily Purity (Qianqing Men) flanked by two bronze lion statues. Inside, the court contains three halls similar to the three found in the outer court. The Palace of Heavenly Purity was where the emperors lived until the 1720s, while the Hall of Union houses the throne of the empress. The third hall, the Palace of Earthly Tranquility, contains an imperial bedchamber of the empress. Behind the halls, you'll find the Imperial Garden, a private retreat for the royal family members.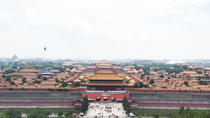 Beijing is always the first choice of travelers who are willing to know a time-honored and developed city of China. The numerous royal buildings with long ... Read more
Location: Beijing, China
Duration: 8 hours (approx.)