No reviews, be the first!
Address:

Bangkok, Thailand

Hours:

8:30am to 9pm daily

Admission:

20 Baht
Wat Suthat Tours
Wat Suthat is one of the oldest and most revered temples in Bangkok. It is one of just six temples in Thailand classified as the "highest grade of the first class royal temples." It houses an eight-meter tall bronze Buddha statue seated in the Mara position, as well as some intricate wall murals that depict the life of the Buddha.
However, Wat Suthat is perhaps best known for the giant red swing (or Sao Ching Chaa) that sits in front of it. The huge 20-meter-tall swing, which is made from teak wood, was built at the end of the 18th century when it was used as part of an annual religious ceremony.
Inside the temple, magnificent wall murals portray the stories of the Buddha, while others depict scenes of daily life in the Rattanakosin era. Along with those found in Bangkok's Grand Palace, these murals are considered some of the best and most extensive in the whole of Thailand.
Practical Info
Wat Suthat is locatedon Bamrung Muang Road in the old city, opposite Bangkok City Hall. The temple is open from 8:30am to 9pm daily and there is a small admission fee of 20 Baht to enter.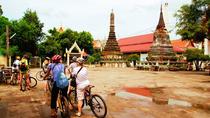 56 Reviews
Get off the beaten track and explore Bangkok as you cycle through lane ways, past markets, traditional houses, canals and temples. Discover idyllic pockets ... Read more
Location: Bangkok, Thailand
Duration: 3 hours (approx.)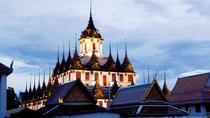 6 Reviews
Travel like a local on a tuk-tuk ride through Bangkok, and make use of rivers and canals to discover hidden treasures in the city. Explore historical quarters ... Read more
Location: Bangkok, Thailand
Duration: 5 hours (approx.)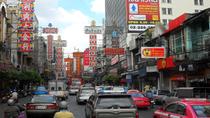 This tour bring you to discover sophisticated flavor of Bangkok 200 years old.
Location: Bangkok, Thailand
Duration: 4 hours (approx.)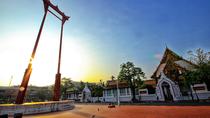 Bangkok's history started more than 200 years ago and over time, the city has changed to a more modern capital. However, remains of the good old days continue ... Read more
Location: Bangkok, Thailand
Duration: 7 hours (approx.)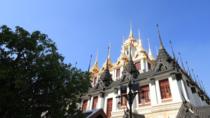 1 Review
Explore the royal city of Bangkok on on foot with a professional guide who points out the features of several landmarks. See the Golden Mount at Wat Saket, the ... Read more
Location: Bangkok, Thailand
Duration: 3 hours 18 minutes (approx.)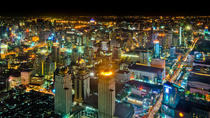 Download a vibrant MP3 Self-Guided Audio Tour combined with a fully detailed map of Bankok. This fascinating audio tour of the energetic city of Bangkok ... Read more
Location: Bangkok, Thailand
Duration: 1 to 3 hrs
Enjoy this private 3-day trip tapping into new ways to explore Bangkok from a different angle, with a personal guide emphasizing on its local way of life that ... Read more
Location: Bangkok, Thailand
Duration: 3 days (approx.)