Omonoia Square Tours
Omonoia Square is a big square located north of the central market in Athens, Greece. It's the city's oldest square, and pictures show it was once a lovely square with lots of trees. However, it has been reconstructed several times in order to adjust for the introduction of cars and other vehicles. Six streets intersect at the square, making it a busy traffic hub. Buses, metros, and taxis can all be found here. There are no ancient ruins here like in other parts of the city, but the area surrounding the square is known for its bohemian vibe and cultural mix, and it is popular with students.
You can find affordable hotels, inexpensive restaurants and cafes, and other types of shops here. Nearby are several flea markets as well. The National Archaeological Museum is the most well known attraction located near Omonoia Square. Other important buildings include the Athens Art Gallery and the National Theater.
Practical Info
Omonoia Square is located where Athinas Street becomes 3rd Septemvriou. The transport stop here is called Omonoia.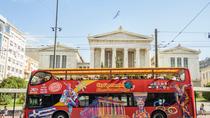 658 Reviews
Discover the best sights in Athens on-board our iconic open-top double-decker City Sightseeing tour bus. With 3 routes to choose from – Athens, Piraeus and ... Read more
Location: Athens, Greece
Duration: 24 to 72 hrs
37 Reviews
With this Athens Super Saver, combine two best-selling tours for a two-day immersion in Athens and Delphi. See top sights on a half-day tour of Athens, from ... Read more
Location: Athens, Greece
Duration: 2 days (approx.)
40 Reviews
With this Athens Super Saver, combine three best-selling tours for a two-day immersion in Athens, Cape Sounion and Delphi. Perfect for those who already have ... Read more
Location: Athens, Greece
Duration: 2 days (approx.)
9 Reviews
Combine three best-selling tours for a two-day immersion in Athens, Cape Sounion, Mycenae and Epidaurus. Perfect for those who already have overnight ... Read more
Location: Athens, Greece
Duration: 2 days (approx.)