Nile River Felucca Cruises in Aswan
By Viator, September 2017
Feluccas are one of the defining sights of Aswan and Upper Egypt (which, as you no doubt know, is south). From a distance, the graceful white sails of these traditional single-masted vessels look like butterflies which have alighted momentarily on the water. To sail in a felucca is to travel according to the rhythm of the river. With a canopy to shield you from the sun and gentle river breezes wafting through, there is simply no better way to see the Nile, life-blood of Egypt through the millennia.
Some of the most ancient of ancient Egypt's sites await you on Elephantine Island, which faces central Aswan. Its southern tip, which once marked the southernmost point of Egypt, was largely taken up with a temple dedicated to the god of the river's cataracts; the extensive ruins make a fascinating sight. Elsewhere on the island you can visit Nubian villages nestled among fertile fields.
Traveling west from Elephantine Island, the same gently flowing waters which carry you to Kitchener's Island irrigate the beautiful Botanic Gardens. This serene oasis is one of the must-see sights in Aswan, with the adjacent western bank of the river boasting yet more attractions, including the Tombs of the Nobles, Aga Khan Mausoleum and St Simeon's Monastery.
Authentic Nubian culture is the chief draw of Soheil Island, the last of Aswan's major islands before the Low Dam. You can visit dwellings and take tea where life goes on just as it did before Lake Nasser displaced numerous villages. There are numerous ancient inscriptions on the island, the most important of which is the "Famine Stele," which records a drought in the Ptolemaic era.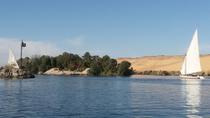 Enjoy sun set time in a traditional felucca ride on the Nile River in Aswan. Enjoy a fantastic sailing experience as you sail around Elephantine Island and ... Read more
Location: Aswan, Egypt
Duration: 3 hours (approx.)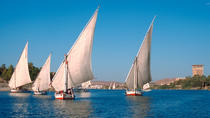 Enjoy an hour and a half on the Nile on a felucca boat trip for an hour in Aswan where you can relax and enjoy the landscape view where you can see the green ... Read more
Location: Aswan, Egypt
Duration: Flexible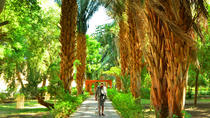 2 Reviews
Sail on a felucca to the Botanic Gardens on Kitchener Island with the company of a qualified Egyptologist guide. Enjoy the peace and tranquility of the island ... Read more
Location: Aswan, Egypt
Duration: 2 hours (approx.)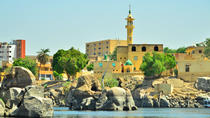 1 Review
With artifacts which date back to the predynastic periods, Elephantine Island is one of the most ancient sites in Egypt. Spend a few hours exploring the ... Read more
Location: Aswan, Egypt
Duration: 2 hours (approx.)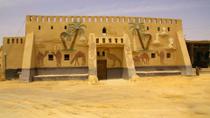 4 Reviews
To learn about the Nubians you must spend time with them. This private tour to Soheil Island lets you meet and spend time with Nubian people in their village.
Location: Aswan, Egypt
Duration: 3 hours (approx.)