No reviews, be the first!
Address:

Hanzestedenplaats 1, Antwerp, Flanders 2000, Belgium

Hours:

Tue–Fri 10am–5pm, Sat–Sun 10am–6pm

Admission:

€5 adults, €3 seniors & ages 12–25, free for children 11 and under (free last Wed of every month).
Museum aan de Stroom Tours
Spearheading the rejuvenation of the once derelict Willemdok harbor area, MAS (which translates as 'Museum on the River') opened in 2011 to great acclaim – as much for its stellar architecture as its thoughtful, well-curated exhibitions paying homage to the city of Antwerp, its history and culture. Sitting just north of the city center on a dock commissioned by Napoleon in 1811, the museum was designed by Dutch architects Neutelings Riedijk and towers 60 m (197 ft) above the harbor. It is comprised of layers of bright-red sandstone bricks held together with glass and steel; the five themed floors of interactive and entertaining displays make use of nearly half a million artifacts – including anything from Old Master paintings to model boats, newsreel, penny farthings, model ships and personal accounts on video – to showcase Antwerp's development into one of Europe's largest ports, a diamond capital and a multiracial center of learning and culture. On the ninth and top floor an outdoor terrace gives views stretching over the city to the River Scheldt, where the Antwerp story began. Unusually for a museum, MAS also has the double-Michelin-starred restaurant 't Zilte, presided over by chef Viki Geunes. Outside is the MAS Boulevard, with a couple of small temporary exhibition galleries and pretty views over the bobbing boats in the harbor.
Practical Info
Hanzestedenplaats 1. Admission €5 adults; €3 seniors and ages 12–25; free for children 11 and under (free last Wednesday of every month). Temporary exhibitions prices vary; combination tickets are available with the Red Line Museum (€13, concessions €9). Opening hours are Tue–Fri 10am–5pm, Sat–Sun 10am–6pm; the museum stays open until 9pm on the last Thursday of every month. Walk from the city center.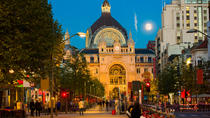 Explore Antwerp, home of diamonds, baroque art and beautiful architecture, on a guided day trip from Brussels. Led by a private guide, the experience includes ... Read more
Location: Brussels, Belgium
Duration: 6 hours (approx.)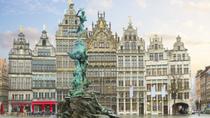 177 Reviews
Wander ancient cobblestone streets and discover centuries of Belgian history round every corner on this 5.5-hour tour of Antwerp from Brussels. Visit top city ... Read more
Location: Brussels, Belgium
Duration: 5 hours 30 minutes (approx.)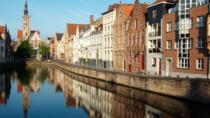 109 Reviews
This Brussels Super Saver combines three popular tours at one discounted price for you to enjoy over two full days! Spend the first day on a half-day city ... Read more
Location: Brussels, Belgium
Duration: 2 days (approx.)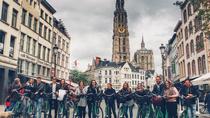 10 Reviews
Cycle through the city on this guided bike tour in Antwerp. Interesting and fun for all ages, including children seats, baskets, helmets, bikes, e-bikes, ... Read more
Location: Antwerp, Belgium
Duration: 3 to 4 hrs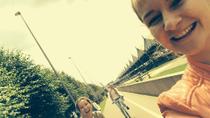 2 Reviews
The 'Antwerp by Bike' tours show you all the highlights and landmarks of Antwerp, like the cathedral, the Central Station and the MAS museum. Together we ... Read more
Location: Antwerp, Belgium
Duration: 2 hours (approx.)