Brabo Fountain Tours
In pole position at the heart of Antwerp's lovely, medieval Grote Markt, the Brabo Fountain stands in front of the ornate, pennant‐encrusted Stadhuis (Town Hall) and was created in 1887 by the renowned Flemish sculptor Jef Lambeaux. The flamboyant Baroque statue represents a legend concerning the origins of the city: more than 2,000 years ago Antwerp was a small settlement in the Roman Empire when a Russian 'giant' called Druon Antigoon settled on the banks of the River Scheldt and charged ships to sail up the river; if sailors refused to pay the toll, Druon Antigoon cut their hands off in revenge. A Roman soldier named Silvius Brabo – rumored to be a relative of Julius Caesar – refused to pay and subsequently killed the giant in a duel, cutting off his hand and throwing it into the Scheldt. The hand became a symbol of Antwerp's freedom and still features on the city's coat of arms; the bronze Brabo Fountain features Silvius Brabo atop a pedestal awash with mythical sea monster, his body twisted in the act of throwing the hand into the river.
Practical Info
Grote Markt. Accessible on foot and 24 hours a day.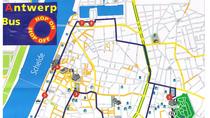 8 Reviews
A organised city tour by bus including a commentary with headsets in 8 different languages. Providing an hop-on hop-off possibility a 8 different bus stops. ... Read more
Location: Antwerp, Belgium
Duration: 60 minutes (approx.)