Armacao de Pera Beach Tours
When it comes to beaches, Armacao de Pera has something for everyone. The beach, which stretches out in front of the fishermen's village-meets resort town of the same name, offers everything from rocky coves, to rows of umbrella-shaded sunbeds, and fresh-seafood-serving restaurants.
Indeed, if you're looking for rocky, natural wonders, head to the shoreline's western end, which is filled with coves and craggy formations. Going eastward, you can take a stroll along the promenade-lined beach, slithering into the resort-style village, or stepping down onto the wide, sandy, family friendly shore. Or wander still farther east, where you'll happen upon the city's fishermen's village. There, you can spy the fishermen arriving with their daily catch, or enjoy said catch at one of the waterside restaurants before grabbing an ice cream and exploring the sweet streets of the neighboring old town.
Practical Info
Armacao de Pera is located just a short drive west of Albufeira, making it and its beach an ideal day trip. It's not the only beach here either: Armacao de Pera Beach is located just west of the very long Praia Grande Beach, beyond which sit even more beaches including Praia dos Salgados and Praia Gale.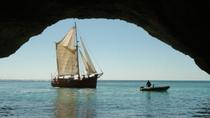 27 Reviews
Find a comfortable seating place in the mid-deck or the shade of the aft deck as you commence your cruise from the new marina of Albufeira. You have the choice ... Read more
Location: Albufeira, Portugal
Duration: 2 hours (approx.)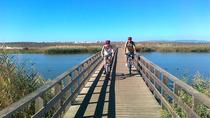 5 Reviews
Heading inland from the old town, you are quickly into quiet unspoiled countryside where youwill pass by vineyards, ancient cork oaks and olive trees. Passing ... Read more
Location: Albufeira, Portugal
Duration: 4 hours (approx.)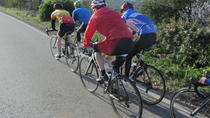 Starting in the popular tourist town of Albufeira, this road bike tour takes in spectacular coastlines, cliff top views and picturesque unspoiled traditional ... Read more
Location: Albufeira, Portugal
Duration: 4 hours (approx.)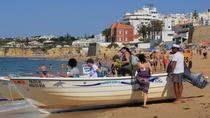 Join us on a 2-hour tour of the Faro District in Portugal. Walk along Armação de Pera promenade and see fishermen houses and nature. Experience the ... Read more
Location: Armação de Pêra, Portugal
Duration: 2 hours (approx.)