The Valensole Plateau is an area in Provence, France that is well known for its lavender fields. The varied shades of blue and violet is an image most visitors wish to see on a trip to the Provence region. The town of Valensole is home to the largest lavender field in France and is the perfect starting point for your visit. Here you will find many shops selling lavender flowers as well as perfumes, oils, and other products made from lavender. 
Lavender grows in virtually every garden in the region, but the images visitors dream of capturing are of the spectacular fields of the Valensole Plateau that stretch as far as the eye can see. In the village of Valensole, you can also learn about the history of lavender cultivation and the traditions of Provence. The lavender fields are in bloom in the summer, and usually from mid June to mid July in this particular area.
Practical Info
Valensole is located 83 miles from Avignon or 63 miles from Marseille and can be reached from either city using route A51.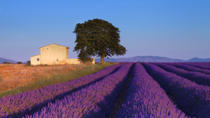 57 Reviews
Discover the fragrant Provençal lavender fields on a tour from Aix-en-Provence with an expert guide! With a choice of a morning, afternoon or full-day ... Read more
Location: Aix-en-Provence, France
Duration: Flexible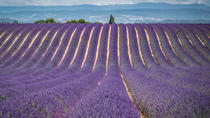 Small group lavender tour. Discover the lavender fields of the Plateau de Valensole, an open air small Provencal market, the medieval village of Moustiers ... Read more
Location: Aix-en-Provence, France
Duration: 9 hours (approx.)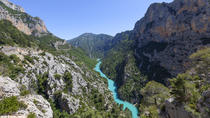 23 Reviews
On this day trip from Aix-en-Provence, venture north from the French Riviera to Alpes de Haute-Provence to see the highlights of this wonderfully scenic ... Read more
Location: Aix-en-Provence, France
Duration: 9 hours (approx.)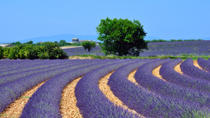 4 Reviews
Visit the vibrant Provence lavender fields on a full-day trip from Marseille! Traveling with an expert local guide, you'll spend the morning of your tour in ... Read more
Location: Marseille, France
Duration: 9 hours (approx.)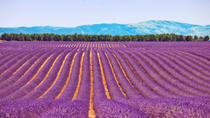 3 Reviews
Summer is the perfect time to experience the beauty and fragrance of Provence. On this day trip from Avignon, visit a market in Aix-en-Provence and venture ... Read more
Location: Avignon, France
Duration: 9 hours 30 minutes (approx.)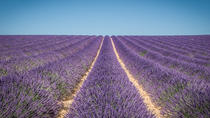 2 Reviews
Discover the Valensole plateau and its surrounding lavender fields during this small-group  half-day morning tour from Aix-en-Provence. The purple fields only ... Read more
Location: Aix-en-Provence, France
Duration: 4 hours (approx.)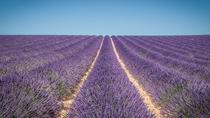 1 Review
An immersion in the heart of Provence and lavender fields to discover the largest lavender fields of France. Discover the Provencal open air market of Riez ... Read more
Location: Marseille, France
Duration: 10 hours (approx.)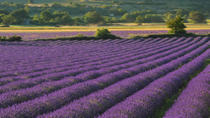 1 Review
Visit the spectacular Provence lavender fields on a full-day private tour from Marseille! Traveling with an expert private guide, you'll spend the morning in ... Read more
Location: Marseille, France
Duration: 8 hours (approx.)